3 March 2020, Silverstone Circuit, UK: Formula 1 has today officially unveiled 188BET as its first ever Betting Partner. 188BET have been named as 'Official Asian Sponsor of Formula 1' with a five-season agreement in a deal brokered with Interregional Sports Group (ISG) that will see 188BET featured exclusively throughout the Asian broadcast market for each Formula 1 season until 2024.
This ground-breaking agreement is the first of its kind in Formula 1 history.
At a special launch day at the home of British Motor Racing, Silverstone Race Circuit, Formula 1 and 188BET officially signed their agreement, with just under three weeks to go until the F1 2020 season-opening race in Melbourne, Australia. Formula 1 Managing Director of Motor Sports, Ross Brawn, ISG's Chris Buckley and 188BET Representatives Tom Earl and Eugenia Jones were joined by former F1 driver Paul Di Resta to present the deal to the world's media.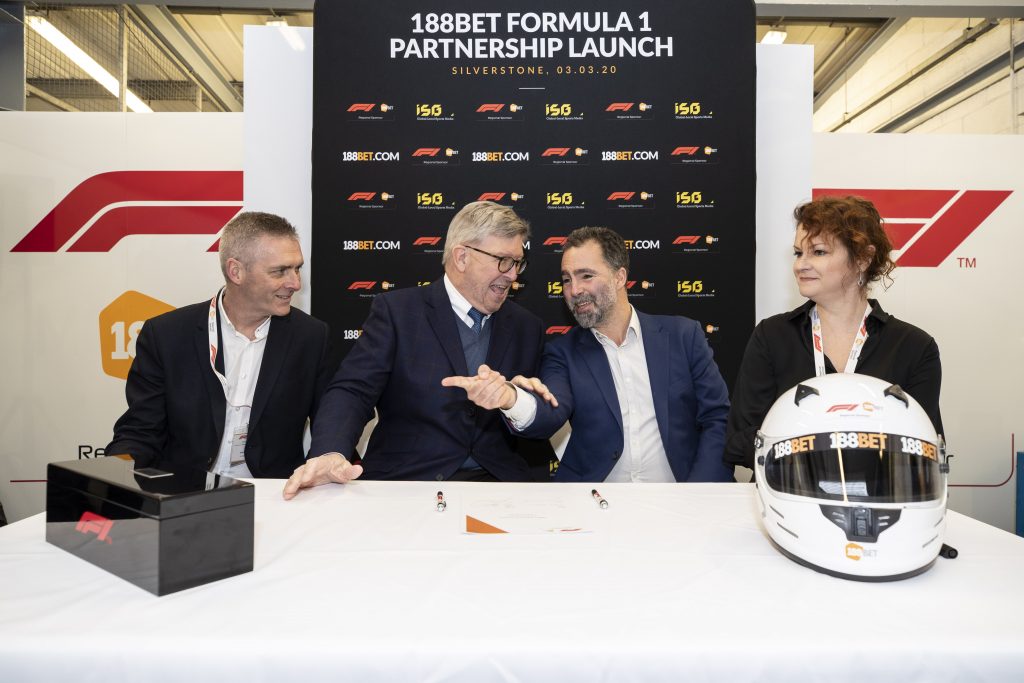 Formula 1 Managing Director of Motor Sport, Ross Brawn, said: "We are really excited to start our new partnership with 188BET and working with them as our official Asian betting partner for the next five years. Their expertise in this space will ensure Formula 1 and sports fans can have access the most comprehensive pre and live race information available and enhance their betting experience."
ISG's Chris Buckley added: "We're delighted to have 188BET as the first ever betting partner of Formula 1. ISG is the world leader in using virtual advertising technologies to help brands target specific audiences through televised sport. We have always believed that Formula 1, with its global fan base, is perfect for this approach and have worked hard with F1 to make this possible. We are confident that 188BET will be delighted with the impact this partnership will have."
And 188BET Representative Tom Earl said: "I'm delighted to announce 188BET's partnership with Formula 1, the pinnacle of motorsport, to become the first ever official Formula 1 Betting Partner. As Official Asian Sponsor of Formula 1, our new partnership will allow the 188BET brand to reach a growing F1 fan base in Asia."
In addition to Formula 1's Managing Director of Motor Sports, leading figures from F1 attended the official unveiling of Formula 1's new Official Asian Sponsor, where former Force India and Williams F1 driver Paul Di Resta drove special guests around the Silverstone Race Circuit in a specially-branded 188BET liveried two-seater F1 car.
188BET Asia Brand Ambassador, Peter Schmeichel, said: "As the Asian Ambassador of 188BET, I am excited for the brand's foray into motorsports as F1's first ever betting partner for Asia, and looking forward to see the partnership grow the sport in the coming years."
Virtual trackside advertising will see 188BET featured exclusively throughout the Asian broadcast market until the end of the 2024 F1 Season. The deal will also see Formula 1 and 188BET co-ordinate on various marketing opportunities across social and digital channels. Significant marketing activation across Asian races in 2020 will bring the partnership to life.
About 188BET
188BET is a leading online bookmaker licensed and regulated by the Isle of Man Gambling Supervision Commission. 188BET offers betting in multiple languages on a wide range of products including Sports, Esports, Progressive Slots, Casino, Poker, Mahjong and many more. For more information visit 188BET.com
About Formula 1
Formula 1® racing began in 1950 and is the world's most prestigious motor racing competition, as well as the world's most popular annual sporting series. The 2020 FIA Formula One World Championship™ runs from March to November and spans 22 races in 22 countries across five continents. Formula One World Championship Limited is part of Formula 1® and holds the exclusive commercial rights to the FIA Formula One World Championship™. Formula 1® is a subsidiary of Liberty Media Corporation (NASDAQ: LSXMA, LSXMB, LSXMK, BATRA, BATRK, FWONA, FWONK) attributed to the Formula One Group tracking stock. The F1 logo, F1 FORMULA 1 logo, FORMULA 1, F1, FIA FORMULA ONE WORLD CHAMPIONSHIP, GRAND PRIX, PADDOCK CLUB and related marks are trademarks of Formula One Licensing BV, a Formula 1 company. All rights reserved.