ISG Productions Managing Director Laurence Archer reflects on how Brexit and COVID have transformed the company into a far more effective and efficient business.
As the world, and particularly the world of sport, starts to open up and we all begin to come to terms with the pandemic, many people are reflecting on the impact – both good and bad – that COVID has had on their business.
For ISG Productions we have begun 2022 a very different business compared to the one we were just two years ago. And those differences are all positive for our clients
The 2022 version of ISG Productions is fitter, faster and more cost effective. We have significantly improved our carbon footprint. In fact, now the memory of the challenges and stresses we all faced going into the first lockdown are starting to (gradually) fade a little, we have come through in great shape.
Our business is largely editing and producing broadcast content for some of the world's biggest sports rights holders and brands. We take footage of events from all over the world, edit it into high energy highlights packages and distribute it to our clients' broadcast partners for inclusion in their programming.
We've worked with UEFA providing this service since 2009 and that relationship is a great example of how we have had to change our approach.
Our UEFA service sees us producing highlights packages from Champions League, Europa League and international matches, we will deliver more than 700 games this season. Traditionally that has meant couriers collecting recordings straight after the final whistle at games all over Europe and shipping them back to our production centre in Coventry. It's been a logistical nightmare at times and required a huge amount of planning. Time has always been of the essence with broadcasters needing the highlights packages as soon as possible so they could include them in their promos, previews and magazine programs. But we couldn't begin the editing process until the recordings were physically in our hands.
Things started to change a few years ago as broadcasters upgraded their fibre links from stadiums, making it much easier for them upload match files to our servers. But the transition was a slow process.
Then two unexpected changes hit us. Brexit and COVID.
Brexit focused our minds on the need to for an alternative solution to couriers. We knew travel across Europe would be affected and we couldn't afford to risk recordings being delayed on route. Covid hit us in similar ways with borders being closed and added uncertainty around transport of recordings.
The answer was point-to-point file transfer over the internet – no small feat with each match producing 150 gigabytes sized files, but made possible because of our dedicated one gigabyte fibre line. We worked hard on developing the solution and then on-boarding more than 100 broadcasters, which ultimately resulted in 99% of them adopting this new process.
The impact on the business has been significant. We are getting the majority of the match files much quicker than we did previously – sometimes receiving the first half before the second half is finished. The quality is improved with a much better Bit rate on the digital files and we have removed the need to book couriers to travel all over Europe. Added to that, the move from physical recordings not only brings cost benefits but it means we are no-longer having to recycle hundreds and hundreds of tapes and discs which certainly helps our carbon footprint and the environment.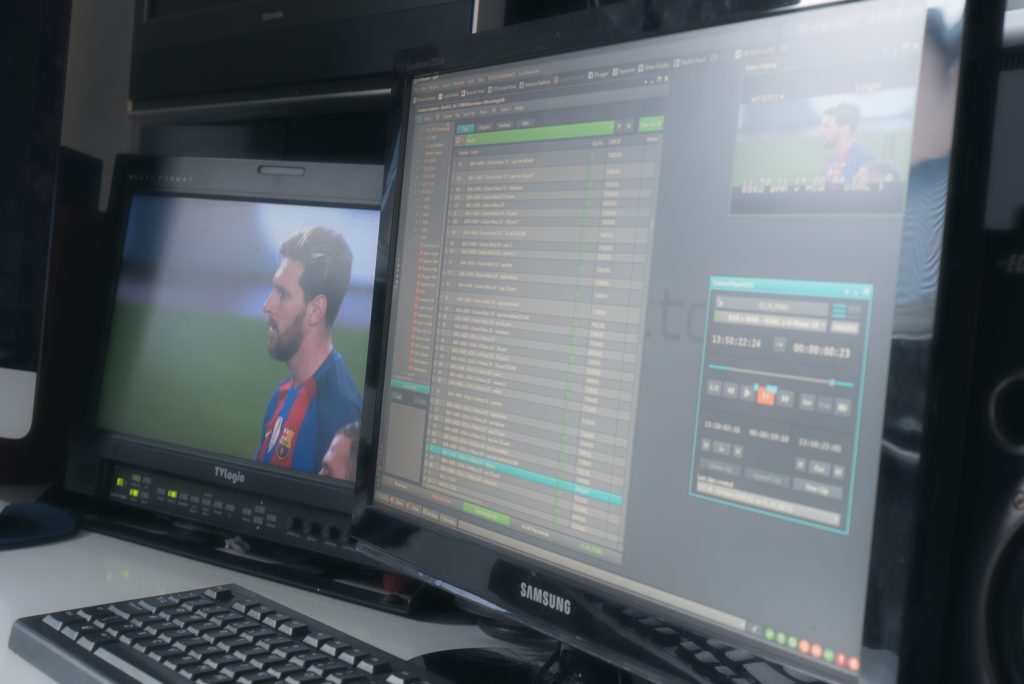 And the COVID impact on the business doesn't stop there. Home working has become a staple part of our process and is here to stay. By its very nature, sports production means working lots of ante-social hours. But with our editors now able to access our production hub from their home offices, they have much greater flexibility in their lives, and we can be far more efficient by not having people waiting around in our production centre for recordings to arrive by courier. Our editors can dial into our servers from their home offices using a stable broadband connection to clip, edit and quality control packages. They can also upload the finished packages to any location.
It allows us to react much more effectively to the peaks and troughs that are part and parcel of our industry, scaling up quickly to respond to busy periods and customer requests and, equally, scaling back during the quieter periods.
We are, without doubt, a more effective and efficient business now than we were two years-ago. In the darkest days of the first lockdown, I heard many people say that those businesses who survived that dreadful time would come through in a much better shape. I'm proud to say that ISG Productions has survived and we are in the best shape we have ever been in.